Fire Roasted Kale Salsa – Medium
Description
A delicious gourmet, no artificial ingredients, gluten free, low sodium Fire Roasted Kale salsa is a medium salsa made with fresh blanched kale, fire-roasted tomatoes, smoky chipotle peppers, roasted vegetables, and smoked spices. Excellent for sautéing veggies, great for making meatloaf, soups, dips and more. Texas Made!
Suggested Uses
Makes excellent pinto beans, slow-cooker simmer sauce for roast and chicken, pizza sauce, sauteed vegetables, meatloaf, ground meat simmer sauce for tacos, quesadillas, tostadas, burritos or, if you have to, eat with chips.
Ingredients
Roasted Tomato, Diced Tomato, Filtered Water, Kale, Onion, Roasted Jalapeño Pepper, Jalapeño Peppers (Jalapeño Peppers, Water, Vinegar, Onions, Carrots, Salt, Sugar, Spices And Garlic), Vinegar, Tomato Paste, Roasted Garlic, Salt, Xanthan Gum, Dried Onion, Dried Garlic, Black Pepper.
Nutrition Facts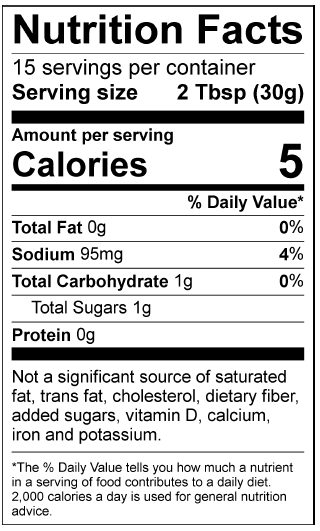 Awards