Texas Brew Has A Product Just For You!

Texas Brew authentic, fire roasted, gluten free salsa and sauces honor Texas and the reputation earned throughout its history. Continuing to do so is a high calling we are determined to keep.  Our salsa and sauces may not overtly prove everything is "Bigger" in Texas, except taste that is, but they do prove the most important thing; everything is definitely "Bolder & Better" in Texas. And Yes, our products are "Texas Bred, Born and Brewed" boasting "A Bit of Texas in Every Jar!"
New Products (HEB Exclusives)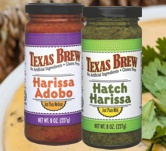 Harissa Adobo / Hatch Harissa
Made with freshly blended morita peppers, olive oil and along with a bevy of smoky spices and roasted garlic, creating a truly unique blend of scrumptious goodness. Choose your own heat level depending on how much you use. Excellent for making Aioli, Crostini's, pasta sauces, chile, sautéed veggies or meat and so much, much more. Texas Made!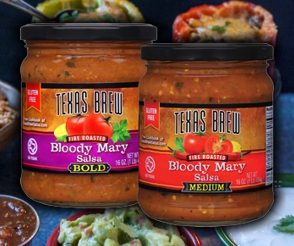 Fire Roasted Bloody Mary Salsa
A healthy, gluten free salsa combining two Texas favorites to create a slightly spicy, smoky culinary salsa with a signature Texas Style Bloody Mary flavor. Culinary creations include Bloody Mary Ceviche, Bloody Mary Cocktail Sauce and Bloody Mary Cocktail.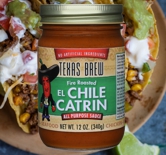 El Chile Catrin All Purpose Sauce
An all-natural, gluten free, smoky, creamy and versatile chile sauce. Perfect for making chili, enchilada salsa dip, taco meat, tamale pies, mole, as an enchilada sauce and so much more. A must have pantry staple.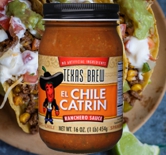 El Chile Catrin Ranchero Sauce
An all-natural, gluten free, mild and versatile ranchero sauce. Makes delicious Mexican rice without all the extra steps, a cheesy enchilada casserole, an amazing meatloaf, or hot and creamy Sirach Dip. A must have pantry staple.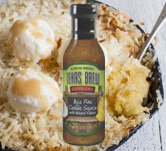 Baja Pina Colada Sauce
All-natural, low sodium, gluten free, fire roasted pineapple/veggies, pineapple tidbits, smoky peppers, touch of agave and laced with rum and coconut for a full mouth flavor. Make seafood dishes/tacos, smoked brisket, roast, any protein and as a dessert sauce.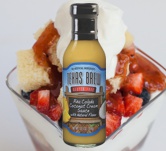 Pina Colada Coconut Cream Sauce
One-of-a-Kind velvety yellow, light, dreamy blend of pineapple, coconut cream, spices, coconut essence and rum sauce. Make Grilled Shrimp Chilaquiles, Tropical Ambrosia, Pina Colada Pancakes, Gazpacho, Warm Coconut Cream Soup, Pina Colada Velvet Sauce for grilled fish.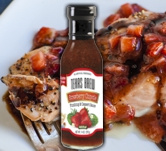 Strawberry Chipotle Sauce
A Mild, Gluten Free, No Artificial Flavors Sauce. Unique & Versatile Sauce : Made with, Real Strawberries, Agave, Smoky Peppers and Roasted Veggies. Goes great with salmon, grilled jalapeno sausages, berries such as blueberries, strawberries, blackberries and raspberries. Excellent as syrup over buttered waffles or pancakes or on buttered toast, biscuits or over cream cheese. So good, you might want to eat it with a spoon.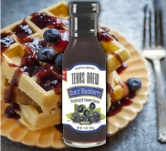 Blue n' Blackberry Sauce
A Mild, Low Sodium, Gluten Free, No Artificial Flavors Sauce made with blackberry puree (not juice) and blueberries. Versatile enough to use as a dessert topping for cheesecake, ice-cream, waffles, parfaits or to make an amazing baked or grilled tenderloin. So good, you might just want to eat it with a spoon.