Honey Roasted Chipotle Salsa – Mild
Description
A delicious, award winning, gourmet, no artificial ingredients, low sodium, gluten free, Honey Roasted Chipotle salsa made with fire-roasted tomatoes, smoky chipotle peppers, roasted vegetables, and smoked spices plus a few other secret ingredients. No Heat Mild is a honey kissed, tantalizing salsa bursting with a depth of flavor perfect for creating gourmet culinary masterpieces.
Suggested Uses
Perfect for grilling the choicest of meats, creating luscious deserts such as Texas Chipotle Brownies and Pineapple Gelato. The perfect wine pairing partner. Makes excellent, three bean soup, chili, taco meat and a great slow-cooker simmering sauce for roast or chicken. Fantastic added to your spaghetti sauce.
Ingredients
ROASTED TOMATO, HONEY, ROASTED TOMATILLO, ROASTED ONION, FILTERED WATER, ROASTED GARLIC, CILANTRO, CHIPOTLE PEPPERS (WATER, CHIPOTLE PEPPERS, ONIONS, TOMATOES, VINEGAR, SUGAR, SALT, GARLIC), SALT, ROASTED POBLANO PEPPER, LIME JUICE CONCENTRATE, MOLASSES, CUMIN, SUGAR, SMOKED PAPRIKA.
Nutrition Facts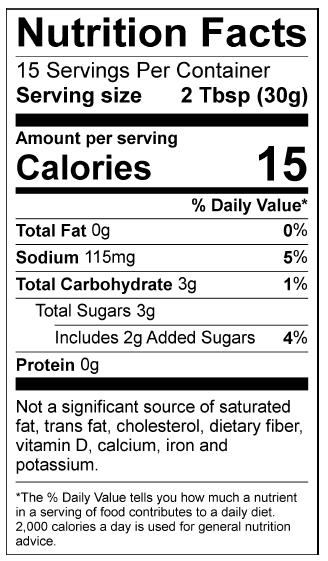 Awards