Honey Roasted Chipotle Salsa – Medium
Description
A Honey Roasted Chipotle salsa made with fire-roasted tomatoes, smoky chipotle peppers, roasted vegetables, and smoked spices..
Suggested Uses
Perfect for grilling the choicest of meats, creating luscious deserts such as Texas Chipotle Brownies and Pineapple Gelato. The perfect wine pairing partner. Makes excellent chili, taco meat and a great slow-cooker simmering sauce for roast or chicken. Fantastic added to your spaghetti sauce.
Ingredients
ROASTED TOMATO, HONEY, FILTERED WATER, ROASTED ONION, ROASTED TOMATILLO, CHIPOTLE PEPPERS (WATER, CHIPOTLE PEPPERS, ONIONS, TOMATOES, VINEGAR, SUGAR, SALT, GARLIC), ROASTED GARLIC, CILANTRO, SALT, ROASTED POBLANO PEPPER, LIME JUICE CONCENTRATE, MOLASSES, CUMIN, SUGAR, SMOKED PAPRIKA, OLEORESIN CAPSICUM.
Nutrition Facts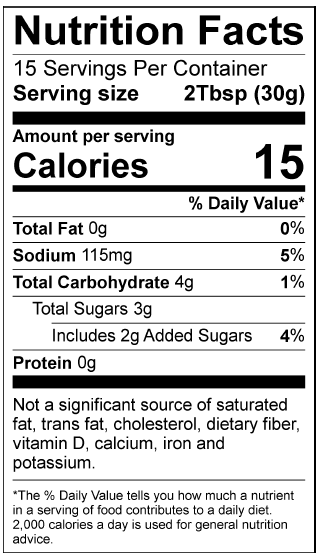 Awards