Honey Roasted Mango Salsa – Medium
Description
A delicious gourmet, no artificial ingredients, gluten free, Honey Roasted Mango salsa  made with  "real mango", fire-roasted tomatoes, smoky chipotle peppers, roasted vegetables, and smoked spices. Texas Brew Honey Roasted Mango a medium heat salsa, is luxurious with an every so smoky, exotic sweetness.
Suggested Uses
Use as a cream cheese or ice-cream topping or made into a glaze to grill meat or an excellent shrimp cocktail ceviche, mix with BBQ sauce and frozen meatballs for a wonderful appetizer. Makes and excellent black bean salad.
Ingredients
Roasted Tomato, Mango, Mango Puree, Filtered Water, Diced Tomato, Honey, Roasted Onion, Chipotle Peppers (Water, Chipotle Peppers, Onions, Tomatoes, Vinegar, Sugar, Salt, Garlic), Sugar, Roasted Poblano Pepper, Salt, Lemon Juice Concentrate, Roasted Garlic, Habanero Pepper, Natural Mango Flavor, Vinegar, Molasses, Cumin, Xanthan Gum.
Nutrition Facts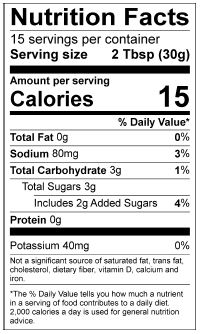 Awards