Honey Roasted Apple Cinnamon Salsa – Medium
Description
A delicious, award winning, gourmet, no artificial ingredients, low sodium, gluten free Honey Roasted Apple Cinnamon is a medium heat chunky salsa  made with  "fresh apples", cinnamon, fire-roasted tomatoes, smoky chipotle peppers, roasted vegetables, and smoked spices.
Texas Brew Honey Roasted  Apple Cinnamon is a medium salsa which evokes the smells of hot apple pie and warm summer days or the cozy fireside chats of winter. Let Texas Brew Honey Roasted Apple Cinnamon Salsa transport you back to a time when quality meant something and still does at Texas Brew.
Suggested Uses
Excellent as a glazing sauce for grilled or smoked ribs. Mix with BBQ sauce and meatballs for an amazing appetizer. Our most requested recipe is the Apple Cinnamon Sopapilla Cheesecake. Mix with BBQ sauce and shredded pork for a fantastic pulled pork.
Ingredients
Roasted Tomato, Apple, Tomato, Water, Apple Juice Concentrate, Honey, Roasted Onion, Apple Cider Vinegar, Chipotle Peppers (Water, Chipotle Peppers, Onions, Tomatoes, Vinegar, Sugar, Iodized Salt, Garlic), Tomato Paste, Sugar, Molasses, Habanero Pepper, Distilled Vinegar, Salt, Cinnamon, Xanthan Gum.
Nutrition Facts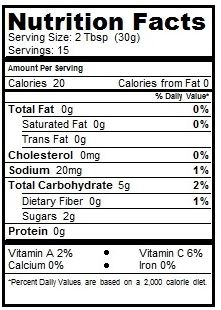 Awards